MWALIMU MALATA OJ BENSON BIOGRAPHY, EDUCATION, FAMILY, JOB & CAREER; Empowering Minds Through Education
On February 8, 1981, a son was born as the fifth child in a family of four girls and four boys in the Maira C village of Malanga Sublocation, south of Mount Elgon in Nambale Sub-County of Busia County, in late post-colonial Kenya.
Born during a critical period in Kenyan history, he rose to became one of the best Kenyan flamboyant Swahili writers and publishers.
Early life
Born during the dry season resulting to acute shortage of food in Western Kenya.
During this hard times economically and situationally,Ojwang' Joseph Benson Malata was born nurtured and raised.
It is narrated that he was not born in hospital; his dad by the name – John Ojwang' Opili aka 'Pende' had taken his cows to quench thirst in the nearby stream of Namudoda that Sunday afternoon when labor pains overwhelmed Mrs.
Phoebe Were Ojwang and forced her to go behind the round grass thatched house as her maternity ward.
Mwalimu Malata generally is a dedicated educator on a mission to leave an indelible mark through the power of education.
His unwavering vision is to become a beacon of excellence in teaching and research while guiding and inspiring others along the way.
Malata's journey is fueled by an unwavering passion for excellence and an unyielding commitment to core values.
He mutually enjoys the warmth of his siblings: Esther Yiya, Ibrahim Opili, Rose Milka, Julia Josephine, Erick Godfrey, Rael Nipher and Cleophas Jacob.
Education & Professional Skills: A Solid Foundation
Mwalimu Malata embarked on his educational odyssey at Moi University in Eldoret, Kenya, where he pursued a Bachelor's degree in Kiswahili and Geography from 2001 to 2007.
Between 2003 to 2005, he had no option of dropping out the university when the jaws of poverty fiercely visited in a strong way thus hibernating in Mlolongo town of Machakos county forcing him to option for casual laborer in construction companies not forgetting grocery vendor in a kiosk.
Despite of the economic gaps, he emerged with flying colors, graduating with honors.
During his time at Moi University, he also demonstrated early leadership abilities by serving as the Chief Usher for the Moi University PSSP CU. His passion for music was significant.
His academic voyage began at Khasoko Boys High School in Bungoma county on third of March of 1997, where he achieved a remarkable impressive grade that enabled him to join Moi University.
It's worth noting that Malata actively contributed as the School Clubs Coordinator during his tenure.
The bedrock of Malata's educational expedition was laid at Malanga Primary School in Kenya. Here, he successfully completed his KCPE in 1996 and he also shouldered the responsibility of a Class Prefect.
A Wealth of Experience: Nurturing Minds
Malata's professional journey is a testament to his unwavering dedication and profound commitment to education. His illustrious career includes:
He is currently teaching at Musingu School since 2019. Malata serves as a TSC Teacher in Kiswahili and Geography.
In this multifaceted role, he is not only a Assistant Senior Master Boarding but also a Class Teacher, Coordinator for prep supervision, and much more.
The level of commitment, sacrifice and dedication displayed by him has been felt by everyone and everybody.
He has also taken the helm in organizing national workshops for teachers and has played a pivotal role in the success of Kiswahili students in the 2022 KCSE.
St. Peter's Mumias Boys High School (2014 – 2019): During this tenure, Malata held the position of Head of Department for Kiswahili.
He successfully organized Kiswahili seminars for both teachers and students. His achievements include serving as the Principal for the 2015 candidate class and being a Kiswahili Panelist for joint exams.
His crowning glory, however, was leading his Kiswahili class to achieve a remarkable MS of 10.323 B+ in the 2015 KCSE, positioning them 2nd in Kakamega County.
Ngozi Girls' High School (2010 – 2014): At Ngozi Girls' High School in Kwale County, Mwalimu Malata wore multiple hats. He served as the Dean of Studies and Head of Department for Languages and Kiswahili, excelling as a class teacher. Ojwang' also played an instrumental role in curriculum development, setting, moderating, and marking examinations. His innovative spirit shone through the introduction of programs like remedial and tuition programs.
Sheikh Ali High School warmly welcomed him in 20th October 2008 – 2010.
During his time at Sheikh Ali High School in ASAL region of Mandera County, Mwalimu Malata taught Kiswahili and Geography.
He was also the Drama Patron, reaching the national level with a Borana creative cultural dance in 2009 .
His involvement extended to mentoring students as a class teacher and overseeing the Young Writers Club.
He is remembered by his publications in some mainstream national media that touched on challenges bedeviling The North Eastern region as far as education is concerned.
In September to October 2008 St. Mary's Mumias Girls Secondary contracted him for his service as he was waiting for official letter of posting by TSC after securing a chance in Mandera County during 2008 August recruitment.
As an interim Kiswahili teacher at St. Mary's Mumias Girls Secondary in Kakamega County, Mwalimu Malata made a valuable contribution to the institution.
While at Mary Seat of Wisdom Bulimbo Girls Secondary between September 9th 2006 – August 2008, Mwalimu Malata significantly impacted MSW Bulimbo Girls Secondary, where he taught Kiswahili and Geography.
He was very instrumental in streamlining the boarding section for order and cleanliness as a Boarding Master; the first male Boarding Master and served as a dedicated Class Teacher of West stream.
His unwavering commitment was evident in his role as a supervisor for evening and morning preps that was felt in tremendous improvement in personal discipline of students and KCSE results.
It is on record that, when the Deputy Principal- Mrs Sitati and Principal – Mrs Electine Ayiela Kisiang'ani by then noticed the dedication of its own kind and wrote to him a letter of recommendation.
Continued Learning and Growth: Seminars and Workshops
Mwalimu Malata firmly believes in the pursuit of lifelong learning. He has actively participated in various courses, seminars, and workshops to hone his skills.
His dedication to leveraging technology in education was bolstered by extensive knowledge gained during an ICT training in 2013. Furthermore, he received specialized training as a Kiswahili paper two examiner in 2011 by KNEC.
His commitment to drama and education led him to attend drama workshops organized by KNDF in the Coast region in 2013, 2012, and 2011.
In addition, Mwalimu Malata actively sought to enhance his expertise through education workshops on Kiswahili and Geography in 2010.
National Kiswahili facilitator
His passion and competence in Kiswahili subject has enticed other Kiswahili gurus to invite him in schools to share with candidates leaving behind indelible mark.
Among schools like: Alliance Boys, St. Joseph's Boys National – Kitale, Butula Boys National, Mama Ngina Girls, Mpeketoni Boys-Lamu, Kwale High School, Dr. Aggrey- Wundanyi, Machakos Girls, St. Peter's Boys Mumias, Nambale Boys, Kisoko Girls, Bungoma High School, Kaya Tiwi High, Maweni Mixed Sec-Nyali, Mazeras Boys, Mazeras Girls, Kombeni Girls, Taru Girls, Taru Boys, Dr. Krapf, Light Academy, Butula Girls, Lugulu Sec-Busia, St. Anne's Bunyala Girls, Buyosi Sec, Nyakhobi Sec, Bumala Sec, Bishop Sulumeti Girls, Musoli Girls, Shikoti Mixed, Shikoti Girls, Mnyenzeni Mixed Sec-Kwale, Mwasere Girls- Voi, Malanga Secondary, Madende Sec, Munami Sec, Koyonzo Girls,Sacred Heart Mukumu Girls, St. Augustine Mukumu Boys, Katheka-Kai Sec- Machakos, St. Agnes Shibuye Girls, Muhudu Secondary – Vihiga, Namagara Secondary, St. Paul's Lugari Boys, Shikondi Girls, Shikunga Secondary, St. Peter's Aterait – Teso South, St. John's Girls Kaloleni, Mwahima Sec-Likoni, Teremi Boys High, Koyonzo Boys, Ejinja Sec, St. Joseph's Indangalasia Sec, Lumu Sec- Makueni, Kisasi Boys – Kitui, Mabunge AC Sec, among many more schools that has tasted and tested his passion for the subject.
A farmer of food crops and cash crops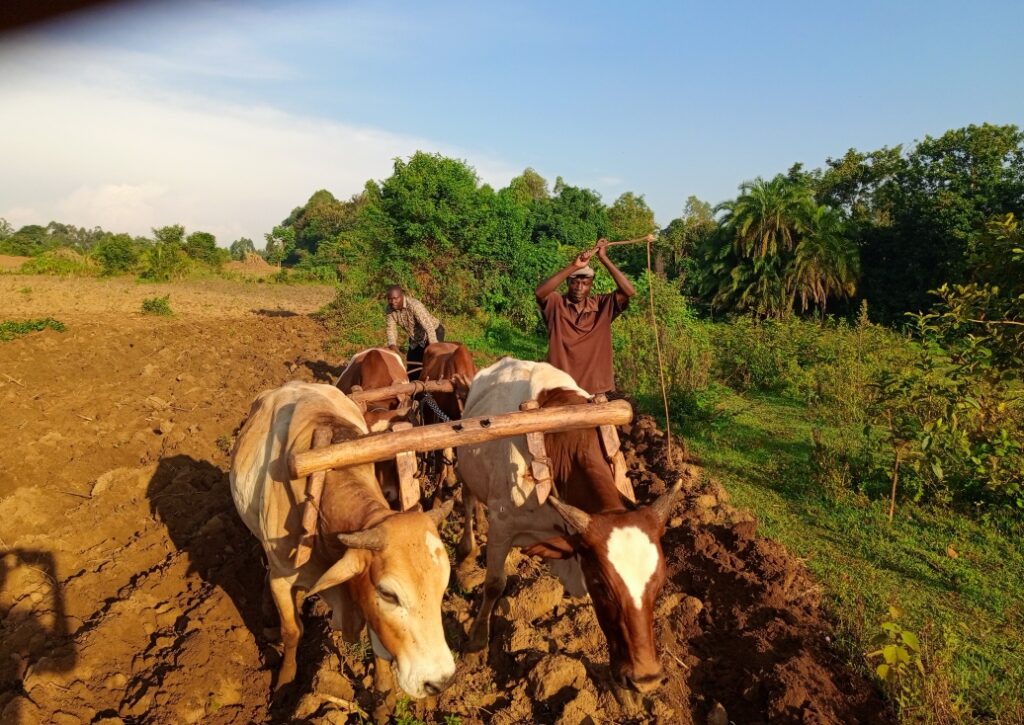 Despite teaching, Mwalimu Malata has a high affinity for the love of nature. As an environment activist, he has increased tree cover by planting trees wherever he stays even in rentals.
This is a guy who has knowledge in planting of arrowroots ( nduma) besides planting sugarcane, maize and cassava for domestic and cash crops.
Certificates and Awards: Celebrating Excellence
Mwalimu Malata has earned recognition and accolades for his unwavering commitment to education.
His impressive list of awards and certificates includes: He participated in the Musingu High School Teacher of The Year 2023 award (MUTOYA) and took position 3, participation certificates in Coast Region Drama workshops in 2013, 2012, and 2011.
He was also recognized for his participation as a dance choreographer in the 2009 Kenya Schools and Colleges Drama Festivals held at Meru School.
Ojwang's dedication earned him certificates of recognition for being the most committed teacher of the year 2007 at Mary Seat of Wisdom Bulimbo Girls.
Additionally, he received a certificate of merit for achieving position three in the 2007 KCSE Kiswahili MS 8.431 by the Dioceses of Kakamega Heads Association at Bulimbo Girls. Notably, Mwalimu Malata' served as a polling/counting clerk during the 2007 election in Matungu Constituency.
Publications: Sharing Knowledge
Malata has made substantial contributions to education through his publications. Noteworthy among them is "Pepeto ya Isimu Jamii kwa shule za sekondari," published in 2016 by Double Shasa in Kakamega. His literary endeavors also encompass "Pepeto ya Insha" and "Pepeto ya Ushairi." His close friends have hinted that Malata is developing a Kiswahili novel- Kisima.
Professional Bodies: A Commitment to Excellence
As a member of Global Kiswahili Experts (GLOKIE), Ojwang' has embraced a leadership role as Director. In July 2016, he orchestrated a highly successful workshop for Languages , Humanities, Sciences and Mathematics teachers in regions like Murang'a, Mombasa, Kilifi, Lamu, Nyanza, Uasin Gishu, Trans Nzoia, the larger Western region. In the same breath he has organized contests in English and Kiswahili as well as prefects Mentorship Programs across the country.
Hobbies: A Glimpse into Malata 's Interests
Beyond his professional life, Malata finds joy in various hobbies, offering a glimpse into his multifaceted personality. He is an avid reader of newspapers and an accomplished writer and author contributing articles, guidebooks, and novels to the literary world.
Malata is a passionate traveler who explores diverse landscapes. He is also an enthusiastic sports fan, with a particular affinity for soccer. His leisure moments often involve watching movies, especially those from the Bongo cinema, and savoring music from a wide spectrum of genres.
Key Competencies & Skills: A Versatile Educator
Malata is a well-rounded educator equipped with a plethora of skills and competencies, including:
Served as a KNEC/KCSE Kiswahili Paper 102/2 Senior Examiner since 2010 and rose to the level of Team Leader (TL)
Expertise in human resource management.
A passionate and zealous approach to his duties.
Exceptional teamwork skills.
Effective communication techniques and negotiation skills.
Courageous, frank, and focused in his role.
Proficiency in financial management.
Strong report-writing skills.
An innovative and results-oriented mindset.
Proficiency in MS Word, Excel, Power Point, Office XP, and internet usage.
A dynamic and self-motivated work ethic.
Community Development Skills
In 2016, Malata took on the role of Founder and Patron of the Malata Educational Center (MEC), demonstrating his unwavering commitment to community development, several students within his village have been funded to continue with education journey. He is also an active member of Anglican Church of Kenya. Malata is the brainchild to Malanga Primary School Alumni (MAPSA) that has seen continuing students in his former primary being mentored.
Tribe and family
Much is not written about his marital but close friends reveals that Malata is a family man with children and married to one known wife. His ancestral route is dated from the Itesos (Ikuruku clan) who moved in late 19th century from Simba Chai – Amukura of Teso South and settled in Maira village amongst the Khayo speaking clan.
Religion
A Christian and God fearing brought up in ACK faith, with high affinity for Hosea 4:6 "My people are destroyed from lack of knowledge.Because you have rejected knowledge,
I also reject you as my priests; because you have ignored the law of your God,I also will ignore your children." His outstanding knowledge in other religions like Islam groves him well. His best verse is Sura tul An-Nahl 16:97 "Whoever does good, whether male or female, and is a believer, We will surely bless them with a good life, and We will certainly reward them according to the best of their deeds."
In conclusion, Ojwang' Joseph Benson Malata's journey epitomizes the transformative power of education and the profound impact one dedicated individual can have on the lives of many. His unwavering commitment to excellence, thirst for knowledge, and dedication to community development make him a true luminary in the field of education, a mentor to aspiring educators, and a beacon of hope for countless students striving for a brighter future. He cherish exceptionally wise words of Nelson Mandela, "Education is the most powerful weapon which you can use to change the world."
By MWALIMU MALATA OJ BENSON